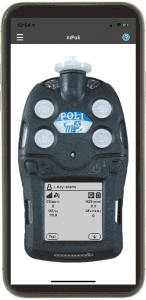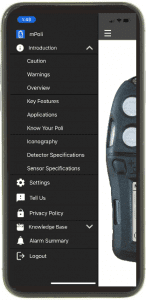 mPower Electronics introduces the POLI simulator, a mobile training app that simulates all the functions of a POLI multi-gas detector without the need to have an actual detector on hand.
This interactive app demonstrates all the important features that safety managers and field workers need to know to operate and maintain the detectors. "The POLI app is a handy tool for people who have never used our detectors, as well as those who would like a refresher course about their use," says Hong Sun, mPower president.
Just like operating the detector
With the app's interactive tutorial, users can navigate through the multi-gas detector interface just as if they were using the actual device.
Another valuable feature of the app is the Alarm Summary, which demonstrates all 13 audio, visual and vibration alarms supported by the device, so users learn how to differentiate them when working in the field. POLI app also includes an explanation of key features and applications, as well as maintenance and troubleshooting advice.
The app supports six languages and is available in both Android and iOS versions. Users may scan the following QR Codes to downloaded the app via Google Play or Apple's AppStore at $1.99.
App also serves as demonstration unit alternative
Although the app was developed for training purposes, it has proven to be a useful tool for the mPower sales channel, who can leverage it to provide product demonstrations to potential customers without being constrained by location or availability of demonstration units. "Now I can show customers all the features of the POLI gas detector anytime and anywhere," says Dr. Werner Haag, Chief Chemist and Training Instructor who contributed to the app development. "The realistic interface helps customers understand the ease-of-use of the detector, as well as the great features."
About POLI gas detectors
Available in both diffusion and pump versions, POLI multi-gas detectors offer 4- or 5-gas monitoring of oxygen (O2), combustibles (LEL), toxic gases, carbon dioxide (CO2), and volatile organic compounds (VOCs). They feature more than 30 smart sensors and deliver six months of continuous data logging.