mPower Electronics introduces a new 4-Gas Detector – MUNI MP420 – with major intrinsic safety certificates including cULus, ATEX, INMETRO and KCs, in addition to IECEx. We have already started shipping orders of MUNI gas detector and MuniDock bump/cal docking box to global customers.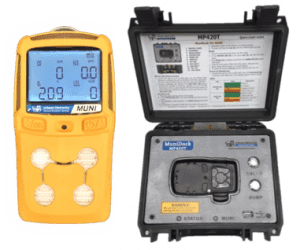 The MUNI is a compact and lightweight 4-gas detector for worker safety at hazardous locations, with four standard sensors for oxygen (O2), combustibles (LEL), carbon monoxide (CO) and hydrogen sulfide (H2S). Alternative sensors are lead free oxygen (O2), low power infrared methane (CH4), sulfur dioxide (SO2), and hydrogen cyanide (HCN). The detector is packaged in a robust housing with no moving parts. Its battery power offers 24-hour run time  for a standard 4-gas detector, and extended run time when using a low-power infrared sensor. The simple, 2-button operation results in ultimate ease of use and significantly reduced time spent training the user. Additional features include:
Multiple sensor configurations to meet different applications
Auto backlit LCD with large numeric digits
Tri-color status indicators on self-diagnosis of sensor, battery and circuit
1000 events log
Combination charge adapter / micro-USB PC interface cable
IP-68 weather ingress rating
Low cost for sensor replacements
Optional BLE wireless for mobile connectivity or 3rd party integration
Optional MuniDock for convenient bump & calibration
The MUNI 4-gas LEL/O2/H2S/CO detector with 2-year warranty is priced at US$576.00 and the CH4(NDIR)/O2(Lead-free)/H2S/CO version with 3-year warranty at US$876.00.  For more information, please watch videos on mPower Electronics' channel at www.youtube.com, and contact us at 1.866.mPower7 (1-866-676-9377) or email info@mpowerinc.com.