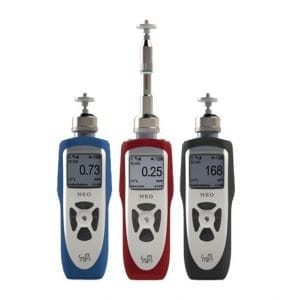 mPower Electronics' popular NEO Photo-Ionization Detector (PID) received ATEX certification Ex II 1G in November, which means it meets European Union qualifications for safety standards where hazardous gases present continuously. PID is widely used for monitoring Volatile Organic Compounds (VOCs) and Benzene in atmosphere.
ATEX stands for "atmospheres explosible" and covers equipment and protective systems intended for use in potentially explosive environments. Any equipment that is going to be sold in Europe must meet these standards. Equipment Group I, II and III is mining, surface industry and surface dust, respectively. Equipment Group 1, 2 or 3 stands for hazard present continuously, 10 to 100 hrs/annum or less than 10 to 100 hrs/annum. For example, customers shall not use monitors with Ex II 2G for applications where hazardous gases present continuously.
The NEO joins the UNI and UNI 321 monitors, which both received ATEX certification earlier this year.
Brent Yaschuk, VP of Sales and Marketing, said mPower is pleased that all of these monitors are now globally recognized with ATEX certification, which is similar to UL standards in the United States.
"Our team at mPower is thrilled to be able to offer our safety-focused products to a wider range of customers," he said.
"Our NEO offers some of the best features, functions and benefits in the industry," added Yaschuk. These features include:
multiple ranges of 0.01 – 5,000 ppm to 0.001 – 15,000 ppm
excellent response times of 3 sec for VOC
standard Bluetooth for wireless communication
24-hour battery runtime with our LI-ION battery
a rugged USB Micro charger design, which will virtually charge anywhere in the world
Also, with our standard carry case and room to carry your calibration bottle with your instrument, the price for the NEO – PPM is very attractive at $2,900 USD
"The NEO is very much in demand because it is one of the most advanced handheld VOC monitors available for parts per billion detection," said Yaschuk. "The NEO also comes in a benzene-specific version that detects benzene in just 45 seconds which can make all the difference when seconds matter."
If you would like more information, please contact us at 1.866.mPower7 or email info@mpowerinc.com.