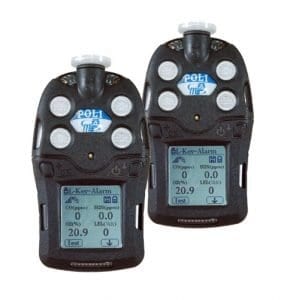 mPower Electronics'
POLI Multi Gas Detectors
received ATEX certification Ex II 1G in late May 2020, which meets European Union qualifications for safety standards where hazardous gases are present continuously.
ATEX stands for "atmospheres explosible" and covers equipment and protective systems intended for use in potentially explosive environments. Any equipment that is going to be sold in Europe must meet these standards. Equipment Group I, II and III is mining, surface industry and surface dust, respectively. Equipment Group 1, 2 or 3 stands for hazard present continuously, 10 to 100 hrs/annum or less than 10 to 100 hrs/annum, respectively. For example, customers shall not use monitors with Ex II 2G for applications where hazardous gases are present continuously.
The POLI product line joins the UNI and UNI 321 single gas detectors along with the NEO photo-ionization detectors, which both received ATEX certification in 2019.
Hong Sun, President, said mPower is pleased that all of these gas detectors are now globally recognized with ATEX certification, which is similar to UL standards in the United States.
"The mPower team is ramping up ATEX-certified POLI production and will make shipments to our customers within a few weeks." he said.
"Our POLI has a powerful platform and offers some of the best features, functions and benefits in the industry," added Sun. These features include:
30+ smart sensors interchangeable by users
16-hour battery run time with Li-ion battery
Man down alarm for an enhanced safety
6 months continuous datalogging
USB cable for charging and communicating with computer directly
The lowest cost of smart sensor replacements
POLI 4-gas (LEL/O2/H2S/CO) detector with a built-in pump is priced at US$972.00. For more information, please contact us at 1.866.mPower7 (676-9377) or email info@mpowerinc.com.